Get more down with Boards, Playbooks, and the Todo plugin
Upgrade your desktop client to the latest version, and explore the exciting new features!
Boards
Boards is a project management tool helping define, organize, track, and manage work across teams via a familiar Kanban board structure. With the Boards, you can keep everyone in your team/organization in the loop and stay on schedule with clearly defined tasks, owners, checklists, and deadlines.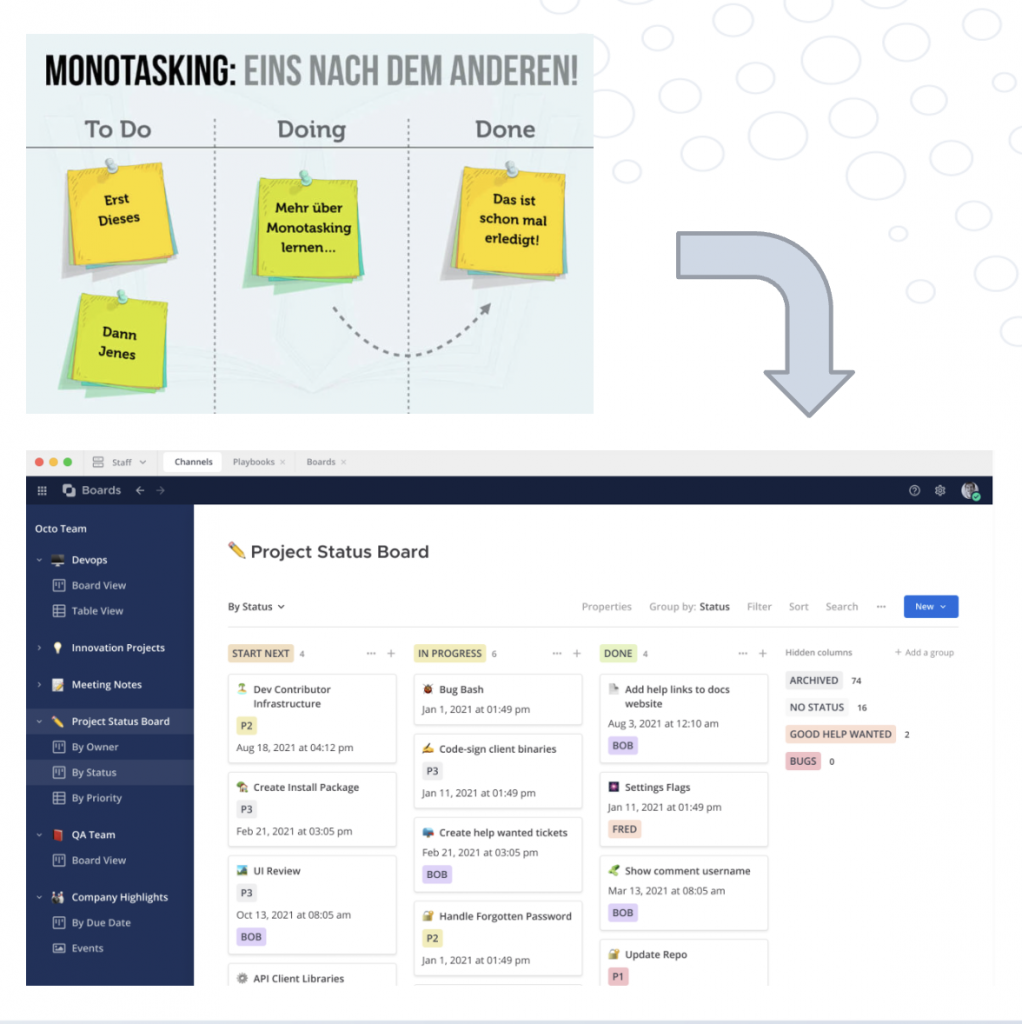 Access Boards 
Here is how: Navigate to the menu button

 in the top-left corner – select Boards – access all your Boards integrated with channel-based communication.
You can access Boards via Desktop client and browser. Currently, this feature is not available on mobile devices, but you will be kept updated by receiving messages from "Boards bots".
Boards uses "Channel-based" or "Direct-Messaging-based" permissions. All members of the associated channel (private, public) or Direct Messaging chat (group) can access the boards with rights to read, write, and delete.
Usage 
Create Boards: Select a channel – then you can work with existing templates, customize templates, create new templates, or start with an empty board.
Use Case 1: Take meeting notes

Use Case 2: Manage project tasks

Exciting Features of Boards
Create new tasks in one second: click the button + New to add a new card.
Symbolic icon for each task: icons are assigned randomly and can be changed by clicking on the icon.
Switch various views: you can adjust boards views to display all tasks by priority, by status, by type, or in the Table view.
Manage each task easily:  move on any task/card – tap Open, now you can assign tasks to the team member, set up the priority, add comments, etc.
Share function: open a Board, click on the More button (near Sort and Search) in the top menu, you can share a read-only version of any board/card with anyone who has the link.
Here is how: Playbooks are pre-built, configurable checklists that orchestrate workflows for teams and manage processes, decreasing the risk of missing steps and tasks. Playbooks work best for repeatable processes, which can be reused for different events such as "Employee On-Boarding", "Product Release", "Experiment Protocol", "Data Migration", etc.
Access Playbooks
Navigate to the menu button

 in the top-left corner – click it and select Playbooks – access all your Runs and Playbooks integrated with team-based communication.
You can access Playbooks via Desktop client and browser. Currently, this feature is not available on mobile devices, but you will be kept updated by receiving messages from "Playbooks bots".
Usage
Create a Playbook: Open Playbooks and select the Playbooks tab – use the template or start a Blank Playbook – name the playbook – select the team – give a description.
Create a Run in the Playbook: Select the Run icon next to a playbook name. Runs trigger to perform automated actions. The user who started the playbook run will be assigned as the run owner and taken to a new channel created for the run.
With the current Mattermost license, Minerva Messenger users can only create Public Playbooks open for all team members. Each Run can be started privately, and actions in Runs can be assigned to dedicated persons.
Use Case: Data Migration
Playbooks comprise checklists of repeatable processes, and Run can be understood as the triggered process for every dedicated event.
In the case of data migration, every general step is recorded on the checklist. If you plan to perform a new migration, you do not have to recreate checklists but rather start a run.
Give the run a name. For example, if this case is required by the "Minerva Team", you could name the run "Migration_Minerva Team".
Then, a channel for this run will be generated. Now you can add users to the channel and work with checklists. During an active run, any member in the corresponding channel can edit, add, delete, or check tasks. It applies only to that run, and the change is only applied to the run, and the content of the playbook will not be affected.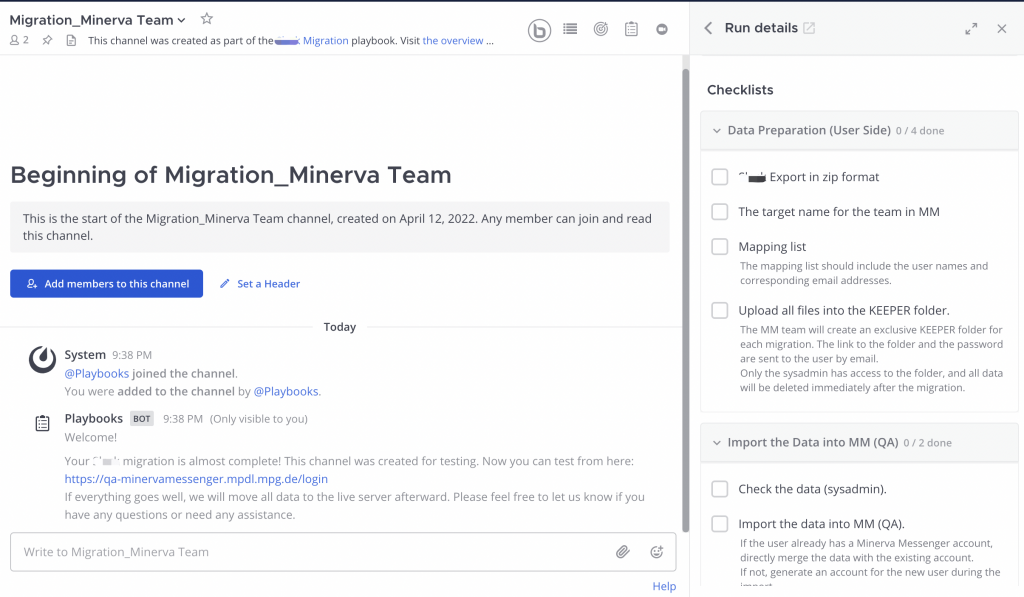 Todo Plugin
You can open your list of Todo issues by clicking the list icon in the channel header bar.

Basically, compared to Playbooks and Boards, the features of the Todo plugin are limited and not enough to be a project management tool. However, Todo enables you to add tasks and track Todo issues based on a channel. It is quite user-friendly for your daily work. Read more.
References:
Minerva Messanger Boards and Playbooks