Voice Calling and Screen Sharing in Channels
Voice calling and screen sharing in channels aim to keep communication easily and efficiently. This feature enables you to start or join a voice call with a click and keep teamwork moving forward quickly.
Up to 3 participants per channel can join a call. This is the current limitation in the beta version. Kindly get in touch with us in case of a problem. We will gradually increase the maximum number of participants (more than 3) when the service is stable. 
Start a Call
When using desktop clients and web browsers, everyone in the channel can start calling by clicking Start Call in the channel header or using the /call start slash command. Each channel can only have one call at a time.

Join a Call
Any active member and guest in the channel can join a call from desktop and mobile apps in addition to web browsers. If you want to invite someone from outside of your team to join a call, kindly provide them with a guest account, and add them to the channel.
Join a call by clicking the Join call button in the channel header.

Join a call through the link in the message.

Click the More button to adjust the settings of your microphone and audio output, then you can see who is taking while a call.

Share Screen
Screen sharing allows users to show something quickly to the participants while on a call. You can click the Screen button to start presenting. Tapping the Expand button, the newly opened page will offer you a view to see the window you are sharing. Please notice that this function is currently not available on mobile.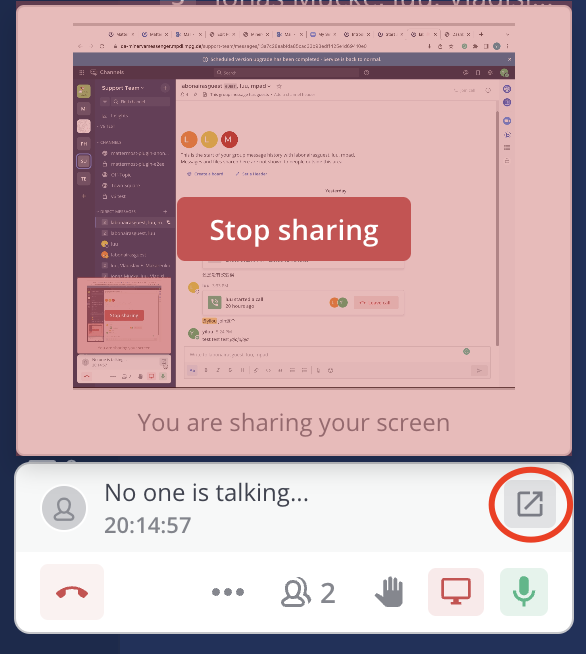 Encryption
Calling and screen sharing are encrypted using security standards as part of WebRTC which is mainly a combination of DTLS and SRTP.
References
Mattermost_ Start a Call (Beta)